OBC-25 self-propelled grain cleaning machine with screws  feeders is designed to clean grain, cereals, legumes, soybeans, corn, sorghum, sunflower, rape, etc. coming from the field from impurities on open currents. Unlike standard OBC-25 models, auger rather than scraper feeders are installed on this machine. Screw feeders have the advantage of minimizing grain damage.
ОВС-25 independently rides and loads itself with grain without the help of other mechanisms or personnel. Loading is carried out by two screws, which are located in front of the OBC-25 and pick up grain at a width of 4.5 meters and direct it to the chain elevator.
Grain cleaning in the OBC-25 is carried out by adjustable air flow, brushes and sieves, which allows to obtain a higher quality of grain cleaning than in aerodynamic separators (see the scheme of work). OBC-25 can also be used for shoveling grain in collars up to 4.5 m wide.
You can also choose the model of the OBC-25 grain cleaning machine with a cyclone, scraper feeders, an elongated elevator, a frequency converter, remote control, lighting, a bumper and a bunker.
ОВС-25 of our production are of high quality and safety, certified according to the technical standards of the European Union, the Customs Union and Ukraine.
The use of our OBC-25 self-propelled machines for grain cleaning is several times more profitable in comparison with the use of stationary grain cleaning machines or complexes.
| | |
| --- | --- |
| Type self-propelled | self-propelled |
| Type of drive | electric |
|  Performanse, tone per hour  | up to 25 |
| Capacit,kWt | 9,15 |
| Electric power consumption, kWh / t | 0,36 |
| The width of the clamp collar feeders, m | 4,5 |
| Height, m | 3,28 |
| Length, m | 5,09 |
| Weight in complete set, kg | 1900 |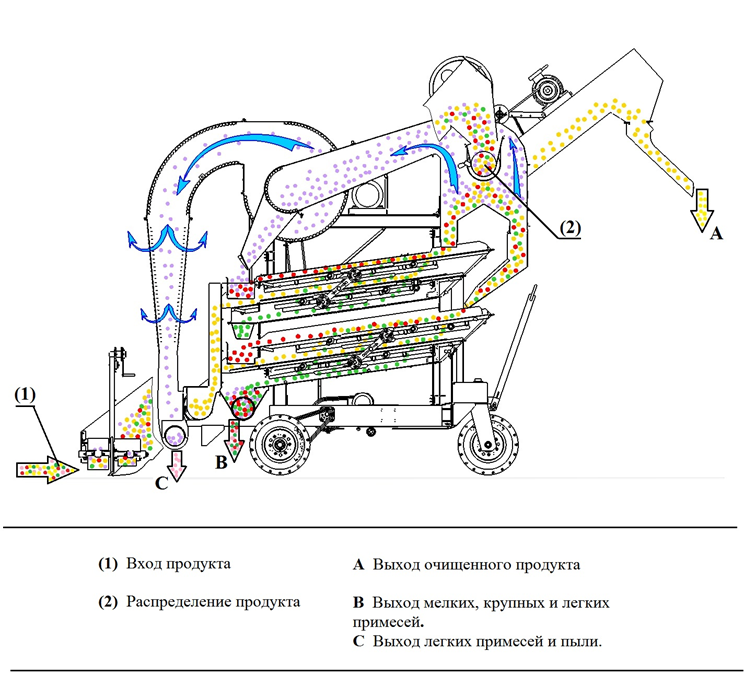 ОВС-25 with screw feeders ensures minimal grain damage.
The use of self-propelled grain cleaning machines is several times more cost effective, compared with the use of fixed grain cleaning complexes because:
the entire procedure of harvest handling is eased - there is no need to design and build fixedcomplexes, construct approaching lines to them, maintain additional transport vehicles, loadingmachinery, and personnel
when using self-propelled grain cleaning machines, the cleaning is carried out directly in the grain warehouse, and in this connection, there is no need for transportation of the grain back and forward to the warehouse, and therefore reducing costs for loading, transportation and unloading
self-propelled grain cleaning machines move along the warehouse by themselves and load themselves with unclean grain without the help of other machinery or people
self-propelled grain cleaning machines can load grain into a truck or a trailer without the help of grain throwers, loaders, grain elevators, and other machinery
the capacity of our self-propelled grain cleaning and sorting machines is high; it reaches up to 25 tons per hour, which makes it possible to quickly clean a large amount of grain.
Self-propelled grain cleaning machines are used to clean of impurities ear-forming, cereal, leguminouscrops, sorghum, sunflower, corn, flax, and oil seed rape. They may be used both indoors and outdoors of grain bins. They perform high-quality cleaning due to the use of screens, brushes, and regulated airflow.
The additional advantage of grain cleaning machines lies in the opportunity to dry grain simultaneouslywith its cleaning.
The use of self-propelled grain cleaning and sorting machine will be especially convenient for the farm enterprises having some grain warehouses or agricultural cooperatives.